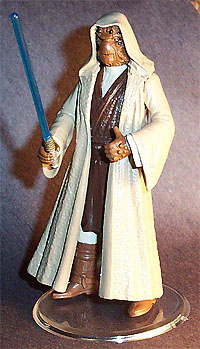 Ingredients:
POTF2 Nikto head, hands & feet
Flashback Anakin torso
Qui-Gon Naboo skirt
Obi-Wan Naboo legs & arms
Chancelor Valorum cloak
Mace Windu hood
Bottom half of Ki-Adi-Mundi saber hilt
Bottom part of Nikto skiff guard staff
Blue saber blade
Sculpey
Superglue
Matte clearcoat
Sandstone, country tan, black, burnt umber, nutmeg brown, gold, and silver paint

Recipe:
I loosely based this figure on the upcoming E2 figure that we saw in the different Toy Fair reviews. I used the basic color scheme that Hasbro is using, just because it makes him look different from other Jedi that have a dark cloak. Classic boil and pop for all the parts. Trim down the shoulders of Valorums cloak, and cut the hood off of Mace's Cloak. Cut off the boots from the Obi-Wan legs, and attach the cut off Nikto boots. I used the shafts
from a thumb tack for each leg to help with attachment. Fill voids with Sculpey, and cure. Paint as seen. I used a mixture of paints for the head and hands to give it a unique look. I finished them off with an orange paint
wash. Remove the Obi-wan hands from the arms, and attach the nikto hands, again I used the shafts off thumb tacks to help with attachment. Seal with a matte clearcoat. Assemble the saber, paint, and seal with clearcoat as well. And there you have it, a non-action pose of a Nikto Jedi, soon to be seen in STAR WARS: Episode 2, Attack of the Clones.