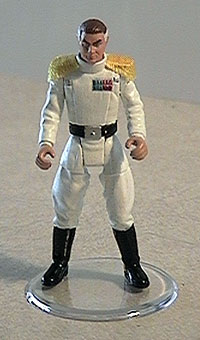 Ingredients:
Tarkin body
Clane Emperor head cast
Yellow thread
Paper
Superglue
Matte clearcoat
White, brown, flesh, yellow, blue, red, orange, and black paint

Recipe:
Paint body white. Paint belt black. Paint code cylinders, belt buckle, and rank badge base silver. Paint rank badges blue, red and orange as seen. Paint head flesh, hair brown, and give white hair along the sides above the ears. Paint eyebrows brown, and use white to make the eyes, with at blue dot in centers and a white dot in middle of that. Use a thin line of black on upper eyelid for lashes. Cut some card stock paper in proper shape for them shoulder things. Line outwards to shoulder with thread in an even line, then line from front to back, out until you reach the end of the shoulders. Use super glue to afix thread to paper, as well as the finished product to the figure. Before afixing to figure though, paint three yellow cufflinks on each arm, and then seal with matte clearcoat. Now it's time to defect from the Empire!!