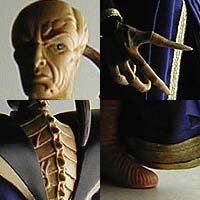 Ingredients:
Juwan Howard NBA body
Xizor vinyl model head, hands, neck/back, shoulder armor, and boots
Dr. Evil as Ming body suit
Gold ribbon
Purple material
Matte clearcoat
Purple, gold, flesh, green, white, and black paint

Comments:
With all the crazy sales and clearances I began collecting 12" figures and was yet again inspired! This is my first 12" scale custom figure of Prince Xizor, who is actually 13" for correct scale. The body is a 14" Starting Line-Up Juwan Howard. The head, hands, boots, neck/back, and shoulder armor are from an AMT vinyl Xizor model. The body suit is from Dr. Evil as Ming the Merciless, and was stained a dark purple. The robe was sewn from cotton fabric and accented with gold trim ribbon. Later, I added a his weapon, made from random junk, just in case a battle with Vader broke out. This actually turned out to be amazingly cheap to make, under $30, because of toy store clearances...